Treat friends and family to something sweet this Halloween with a DIY Halloween Candy Wreath made with MARS® candies that's perfect for BOO'ing!
This shop has been compensated by Collective Bias, Inc. and its advertiser, MARS Incorporated. All opinions are mine alone. #SpookySavings #BOOItForward #CollectiveBias
Are you ready to BOO your friends and family this Halloween? Hover over the photo below and click through to shop for spooktacular candy from SamsClub.com.  BOO in bulk this year!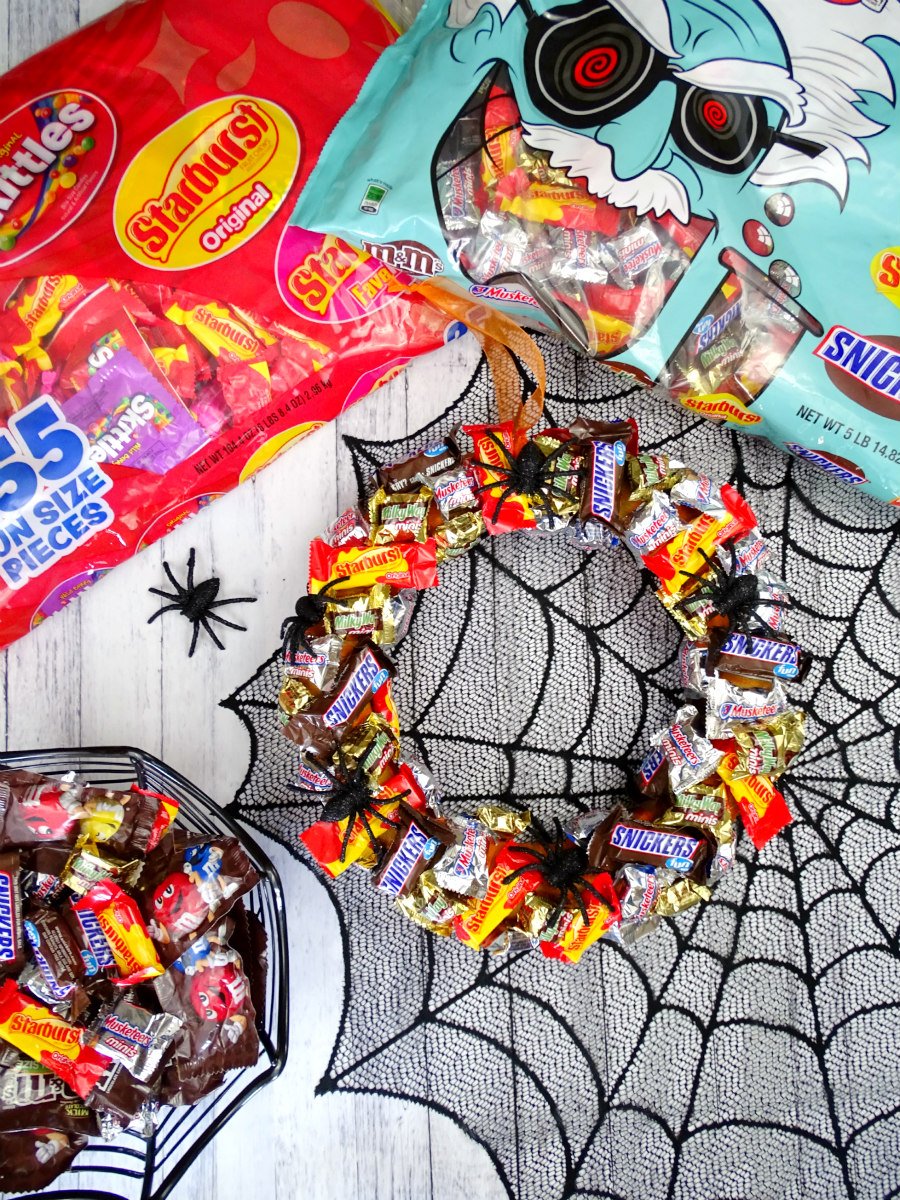 There's a part of me that still can't believe Summer is coming to an end.  But we're already halfway through September and it officially feels like Fall has begun!  My excitement for Halloween has completely taken over! I've been having fun working on lots of spooky Halloween recipes and DIY projects!
Recently, I was talking to my husband about some of my upcoming Halloween projects.  As I was going through some of my old projects from last year, I was reminded of the Date Night BOO Kit that I made for my husband last year.  I mentioned to him how much fun it was to put a BOO Kit together for him, as well as the one I put together for the family dogs!
I had so much fun BOO'ing the family last year, that I wanted to do it again this year.  After all, one of my favorite things about Halloween is sharing some sweetness among the spookiness! So this year, I talked to my husband about BOO'ing our neighbors who do so much for us – and our dog – throughout the year!
I wasn't always this close to our neighbors.  When I first moved in with my husband, I didn't talk to them all that much, if at all.  But that all changed when we got Hunter!  Almost everyone on our block has a dog, so he loves visiting with our neighbors and their dogs!  Our neighbors definitely love Hunter in return!  In fact, they'll even spoil him with treats and toys!
Since my neighbors do so much for us (and especially Hunter) throughout the year, I thought it would be nice to give them something special in return for Halloween.  So during a recent visit to Sam's Club, my husband and I stocked up on MARS® candies so we could "BOO in bulk" this year!  These large variety packs of candy allow you to get what you need for BOO'ing on a budget!
We purchased the MARS® Mad Scientist bag that's filled with an assortment of our favorite chocolate candies (check out the MARS® Bat Bag at Sam's Club, too).  We also purchased a Skittles® / Starburst® Bag to add a little more variety to our BOO Kits! Then, I decided to use some of our candy to make a DIY Halloween Candy Wreath to hang on my neighbor's door and made small baskets of candy for our other neighbors!
SUPPLIES
Foam wreath
Orange ribbon
Scissors
Hot glue gun
MARS® Mad Scientist candy assortment
Skittles® / Starburst® Bag candy assortment
Plastic spiders
STEPS
Heat hot glue gun.
Begin wrapping orange ribbon around the foam wreath, gluing into place as you go.
Once ribbon is in place, begin gluing on Halloween candies, making sure to cover the majority of the ribbon.  Leave enough space to tie a loop of ribbon for hanging.
Glue on plastic spiders to add a spooky touch to the wreath.
Finally, tie a loop of ribbon onto the wreath for hanging.
This DIY Halloween Candy Wreath is such an easy way to BOO your friends and family!  My only tip is that you shouldn't hang it on their door if it's a hot day.  You don't want their tasty treats to melt!
Also, hot gluing the candy onto the wreath won't harm the candy in any way since you're just using a dot of glue on the wrapper.  It'll still be completely edible!  Hot glue is pretty easy to remove, too, so you shouldn't have any problems taking candy off the wreath!
Next time you're at Sam's Club, stock up on MARS® candies for your BOO Kits and DIY projects!  Look for the 2 specially marked Halloween bags – the MARS® Bat Bag and MARS® Mad Scientist Bag – in the candy aisle and their special Halloween display.
PIN FOR LATER
How will you BOO your friends and family this year?